JEFFERSON CITY — In a Republican Party that loves Donald Trump, you don't want to be on the former president's bad side.
That was the message conveyed in a Sept. 6 cease-and-desist letter by Trump's 2024 presidential campaign to groups fundraising for state Sen. Bill Eigel, a Republican candidate for Missouri governor and subject of a recent Post-Dispatch report examining his campaign fundraising practices.
The Post-Dispatch reported Sept. 1 that on at least one occasion, Eigel's BILL PAC sent out an email solicitation urging Republicans to stand behind Trump as the Department of Justice attacked him. But instead of giving to Trump, money would go to Eigel's campaign, the email said in small type.
People are also reading…
A vendor for Eigel's BILL PAC, Arlington, Virgnia-based Targeted Victory, had earlier this year received a similar letter from the Trump campaign warning the firm and others not to use Trump's name, image and likeness in fundraising pitches, Politico reported in March.
"Neither Bill Eigel nor his BILL PAC have anything to do with President Trump or his campaign. He knows it and Targeted Victory knows it," Trump campaign lawyer David Warrington wrote this month to BILL PAC's treasurer and Targeted Victory's counsel.
"If you do not cease and desist this unauthorized use immediately, President Trump and his campaign will make sure everyone knows it," the letter said.
The letter from the Trump campaign comes at an inopportune time for the Weldon Spring Republican, who formally launched his campaign for governor last week. Any forceful rebuke of Eigel by Trump, who remains popular among Republicans, could serve to derail the state senator's campaign as it gets moving.
In a statement Tuesday, Eigel distanced himself from BILL PAC and Targeted Victory, saying he was "confident that any miscommunication/issues between groups outside of my campaign will be resolved."
While candidates may fundraise for political action committees, they are not allowed to control or direct the PAC allied with their campaign.
"I'm a proud supporter of President Donald J. Trump's reelection in 2024 — he's the right man for the job," Eigel told the Post-Dispatch.
"I'm honored to have the support of many of my fellow MAGA supporters across Missouri in my campaign for governor," he said via email. "My commitment to drain the Jefferson City swamp and support President Trump in his efforts to drain the swamp again in DC remains unwavering."
Eigel has trailed Secretary of State Jay Ashcroft and Lt. Gov. Mike Kehoe, who are also running for the Republican nomination, in publicly available polling.
The Trump campaign's letter continued that "Eigel, his PAC, and Targeted Victory have been warned about this unauthorized use and asked to stop it. Yet it appears that you have chosen to ignore those warnings and requests."
While Eigel's PAC had paid Targeted Victory nearly $300,000 through June, it was unclear whether that firm was behind the email reported by the Post-Dispatch that has drawn the Trump campaign's ire. Targeted Victory has not responded to requests for comment.
The Aug. 2 BILL PAC email urging Republicans to back Trump said "Only a massive GOP response right now will work!" and presents a link that says "denounce this witch hunt … stand with Trump."
"You are deceiving donors of their hard-earned dollars by making false and deceptive statements implying that donations are going to support Trump and that by donating the donor would 'Stand with Trump,'" the letter said.
Warrington also threatened legal consequences, referencing two California men who were sentenced to a combined 17 years in prison for running a sham fundraising operation, according to the Los Angeles Times.
"In addition to the public opprobrium Eigel, BILL PAC, and Targeted Victory will undoubtedly suffer should you continue with this fraud when you are publicly denounced by President Trump and his campaign, each of you may be exposed to severe legal consequences," Warrington said.
He said the deceptive fundraising tactic "tarnishes the Trump movement's reputation, harms the relationship between President Trump and his supporters, and exploits the good will and character of patriotic Americans whom you are manipulating out of money by lies and misdirection."
The Post-Dispatch reported that thousands of people who appeared to be living on fixed incomes had donated to Eigel. More than 40 donors this year indicated some type of disability while thousands said they were retired, according to state records.
One donor interviewed, Susan Comer of Arizona, said she had never heard of Eigel and didn't follow Missouri politics. Yet, records showed she donated $10 to BILL PAC in May.
"I can't afford it," Comer said.
"Your campaign has targeted thousands of people who are on a fixed income: people who are disabled and retired, for whom a donation of ten dollars is an important sacrifice and for whom your maneuver of tricking them into recurring donations imposes real hardship," Warrington said.
Kehoe's campaign has accused Eigel of scamming senior citizens.
And on Tuesday, Ashcroft said, "It's sad to see someone portray themselves as a man of the people solely for the purpose of scamming senior citizens out of their retirement income."
He added, "The honorable thing for Bill Eigel (to do) is donate the money he raised under false pretenses to their intended recipient, former President Trump."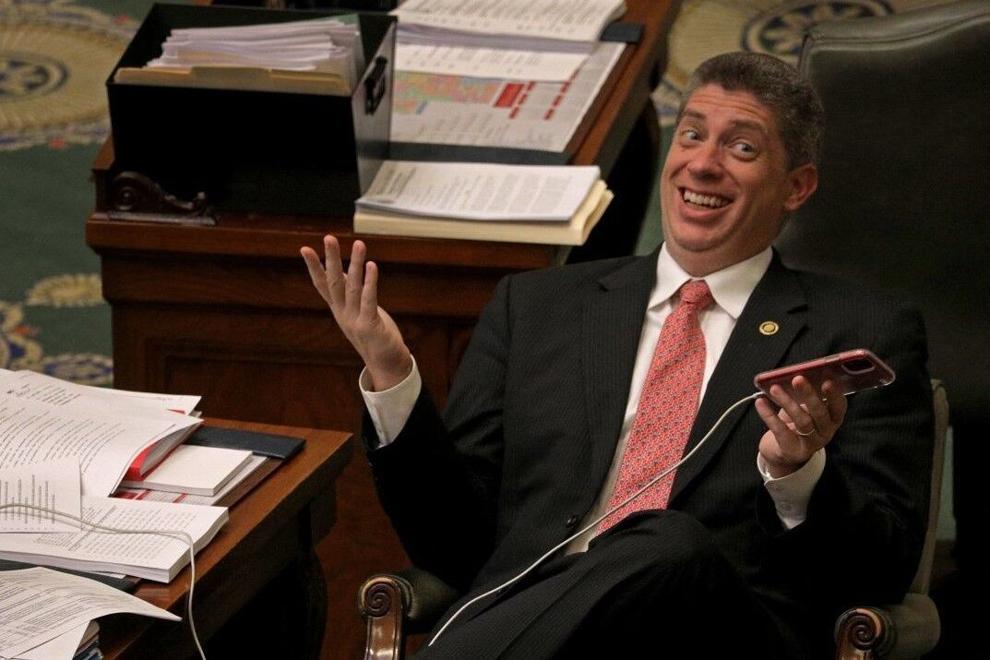 Senators Bill Eigel, R-Weldon Spring, and Greg Razer, D-Kansas City, discuss a bill to bar medical care for transgender children. Video by Beth O'Malley
Be the first to know
Get local news delivered to your inbox!