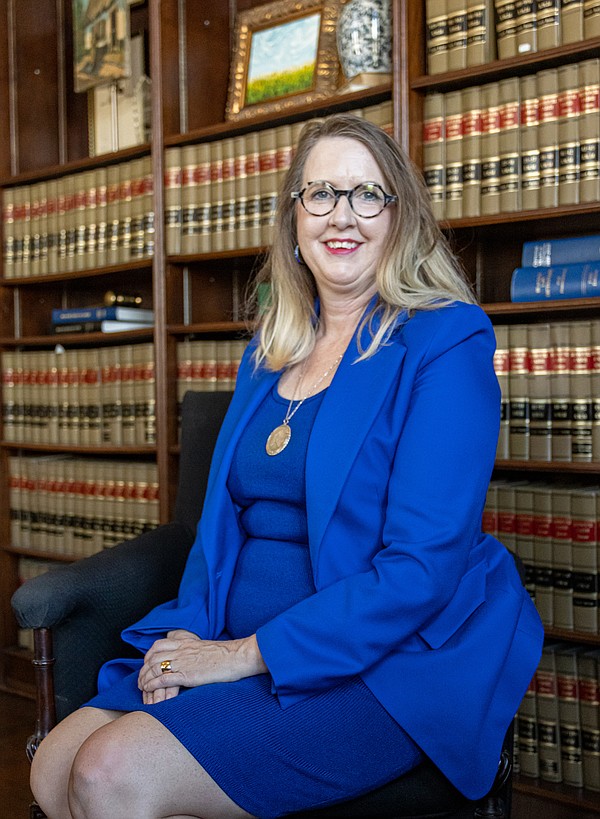 Betsy AuBuchon wants to shine more light on what she views as "the most mysterious branch" of state government.
AuBuchon is clerk of the Missouri Supreme Court and has made education and outreach a greater focus in recent years.
She and the court have been visiting schools and talking to civic groups. AuBuchon and Justice Mary Russell recently spoke to about 160 high school sophomores from around the state visiting Jefferson City to learn about government.
She's also working on putting a more interactive judicial learning center in the court's library.
"We get tens of thousands of kids and adults that come through this building every year to take tours," AuBuchon said, "so we're trying to find ways that they can learn better."
AuBuchon is the sixth Missouri Supreme Court clerk in state history and the first woman to serve in the role. She's responsible for the internal administration of the state's highest court, including its security and 110,000-volume library. Her staff handles scheduling of court cases, maintaining case files and distributing court opinions.
Missouri is the only state that has made its Supreme Court clerk also the chief administrator for its statewide judicial system, which puts AuBuchon in touch with 46 circuit courts and municipal courts in 115 counties. She also serves as treasurer and has several duties with The Missouri Bar, the Office of Chief Disciplinary Counsel and the Board of Certified Court Reporter Examiners.
"There's not much if you're in the legal field that I'm not touching or being notified of in some capacity," she said.
AuBuchon is in many ways the "front face" of the Missouri Supreme Court, she said. And one of her goals is to make that face an approachable one.
The Alton, Missouri, native and mother of four began her career in the Capital City about two decades ago but her ties to Mid-Missouri reach deeper.
After graduating from the University of Missouri's law and medical schools on the same day with a law degree and master's in health care administration with undergraduate degree in agriculture journalism, she moved to Jefferson City and took up private practice lobbying for about 11 years.
"I had always wanted to be back in Mid-Missouri," she said. "I just sort of had fond memories of being there when I was really young and just this sort of epiphany of I love the energy here."
Her first job with the state was acting as a liaison between the court and other branches of government, such as the state legislature and governor's office. She did that for about five years before the Supreme Court's previous clerk retired, and she was offered the job.
AuBuchon said she has some mixed feelings wrapped up with the distinction of being the first woman clerk. Part of her questions if it's a big deal, she said, but the other part is amazed by it and the example it sets for her three daughters, one of which wanted to dress as a "Betsy" for Halloween one year.
"It's a special skill to be able to tell men what to do sometimes," she said. "That has been really neat to me, that I can kind of show them: What do you want to do? What do you want to be?"
AuBuchon was in a car accident when she was about 10 years old that left her in the hospital for a month. Insurance companies got involved because of the nature of the accident, and she soon found herself visiting a courtroom for the first time.
The experience left an impression, she said. She later visited the Missouri Capitol with her grandmother for the first time in high school.
"It felt a lot like the halls of the hospital," she said. "People were always walking back and forth and talking, and there was just this buzz that, for whatever reason, was very similar and spoke to me."
"It was just people working together, and they were on the move, and they knew lots of people, and they were solving problems, but it was different people from different levels all getting along and working together," she continued. "The secretaries and chiefs of staff were like the nurses, and the senators and the reps were the doctors, and there were these people coming in and out that had problems that needed to be fixed. It just resonated."
She wants more Missourians to experience that buzz.
Part of the judicial system's mystery stems from historical contexts, AuBuchon said. Cameras were once not allowed in courtrooms, and lawmakers have historically taken steps to distinguish judges from other political positions.
By opening things up, AuBuchon said, she hopes to cut through speculation and distrust in government.
One of AuBuchon's first memories involving the government was when her family's saw mill had trouble with the Missouri Department of Natural Resources. She said she was introduced to the common refrain that the government was making business difficult and trying to hurt small-business owners.
It cropped back up throughout her lobbying career, she said, but being on the flipside gave her a new perspective.
"We are all just people trying to do the best that we can," she said. "The people I work with are so fabulous and want to just help. Sometimes is it imperfect? Absolutely. Sometimes can I not provide the answer or the help that I know is wanted? Absolutely. But I do think we have wonderful leaders in this state, and I am a huge fan of state government."
AuBuchon said that belief is critical, particularly in an era when many people don't understand government or trust it. If people lose confidence in the Legislature or particular state agencies, it's a small step toward ignoring the laws and rules they create, she said.
"It's a construct, but it's a construct that society has to have," she said. "Sometimes when we have a lot of rhetoric back and forth, we weaken it for everybody, and we don't recognize it.
"I guess sometimes I just worry it won't be on autopilot forever."