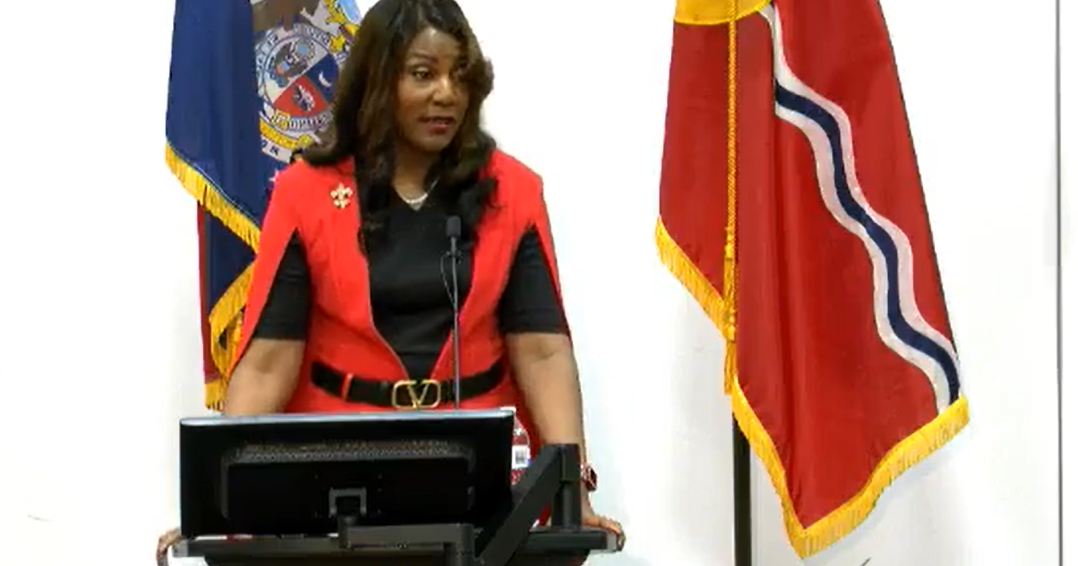 ST. LOUIS — Mayor Tishaura O. Jones said Tuesday that the state of the city is good, and getting better. But she said it could do without the "far right-wing Republicans" in Jefferson City whose policies undermine St. Louis.
Jones, a Democrat who is passing the midpoint of her four-year term, spent a good chunk of her second annual State of the City address, delivered Tuesday night at St. Louis University, blasting GOP officials on a raft of culture war issues like abortion, transgender rights and gun policy.
She cast efforts to curb teachings on racism in public schools as attempts to whitewash history and lie to students. She said new rules curbing access to transgender health care for minors were attacks on children and their families. And she said doing all that while refusing to restrict access to guns for youths was the height of absurdity.
People are also reading…
"To Jefferson City," she said, "a 12-year-old receiving gender-affirming health care is a bigger threat than a 12-year-old with an assault rifle."
She also castigated officials pushing a plan to put a board controlled by the governor in charge of the city police department after a decade under the mayor's office, saying it would do nothing to make St. Louis safer.
She pointed out that Kansas City has a similar board, and just had one of its most violent years on record.
"We have 99 problems," she said, "and the state stepping in and taking over our criminal justice system ain't one."
Alderman Rasheen Aldridge, a Democrat who until recently was a state representative, applauded the broadside.
"St. Louis is under attack," he said, "and we need to speak up."
But her speech drew criticism from state Rep. Brad Christ, R-south St. Louis County, who's been calling for a state takeover of city police.
"Tonight, instead of offering a new approach that recognizes and addresses our greatest challenges, Mayor Tishaura Jones doubled down on failed approaches, misguided ideas and extreme ideologies," he said in a statement. "There is no plan for crime."
New initiatives
Jones also spent time touting progress on her priorities.
She highlighted the passage of bills through the Board of Aldermen budgeting hundreds of millions of dollars to aid lower-income residents and rebuild struggling neighborhoods, including several on the long-suffering, majority Black North Side.
She pointed out that she pushed for across-the-board pay raises for city employees in the current year's budget and the proposed plan for next year as her administration works to fill its many vacancies.
She also talked up her new police chief, Robert Tracy, lauding him for getting more than 75 community meetings in his first 100 days on the job and posting some encouraging numbers to start the year.
Homicides are down 18% year-over-year as of Monday, and reports of robberies and aggravated assaults down through March. Reports of property crimes have also dipped after spikes in January and February. And while stolen vehicles remain a problem, Jones said the city was addressing that by suing Kia and Hyundai for declining to install common anti-theft measures in their cars and making them easy targets for thieves.
Jones also announced some new initiatives, like a plan to create an Office of New Americans in the mayor's office dedicated to making St. Louis more welcoming for refugees, like the more than 700 Afghans who came to the city last year.
She said her team is also working to "reimagine" the site of the old city jail known as the Workhouse, in far north St. Louis. Jones emptied the facility, which she and activists called inhumane, last summer, sending all inmates to a new facility downtown.
She offered few details on her vision for the site, but invited the public to fill out a survey to share theirs.
The survey, found at www.aftertheworkhouse.com, asks visitors if the jail should be demolished, redeveloped or sold. It also asks if part of the site should be turned into a memorial.
Jones conceded ongoing, high-profile challenges. She said understood residents' frustrations with inconsistent or unreliable trash collection. She said the city is still working on fixing a 911 system known for lengthy delays.
And she said the city is still struggling with a labor shortage and a human resources department constrained by decades-old hiring procedures designed to defend against patronage.
"There is still a lot of work to do to bring city operations into the 21st century," she said.
But she said her administration is working on that, day by day. She said the city is pushing raises for trash truck drivers to aid recruitment and retention and putting money toward a new 911 dispatch center.
And she said in the past month, the Personnel Department took a big step forward by introducing computers to track employment history, retiring the old typewriters.
"I wanted to bring a typewriter and destroy it on stage for you all tonight, but my staff said no," she told the audience, to laughs. "We apparently still need the parts."
St. Louis Mayor Tishaura Jones announces a lawsuit against Hyundai and Kia after wave of car thefts across the nation and locally. Video by David Carson
Political Fix
Our political newsletter featuring local and national updates and analysis.