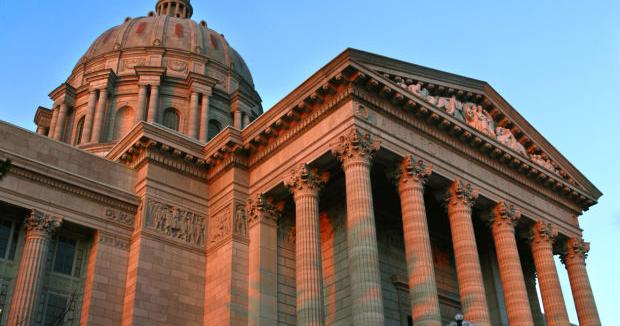 JEFFERSON CITY — The days of lobbyists wining and dining local elected officials may be coming to an end.
Under legislation approved in the Missouri Senate, lobbyists would be banned from handing out free St. Louis Cardinals tickets or picking up the tab for a lunch meeting for city and county officers and their staff and families.
The measure is being sponsored by Senate President Caleb Rowden, R-Columbia, who said local officials should be barred from getting freebies, just as state officials have been since 2019.
In the Capitol, that ban has meant no more heaping plates of free food for lawmakers and legislative staffers financed by lobbying groups representing business and industry.
People are also reading…
"We're banned from taking lobbyists gifts, but that prohibition did not extend to local officials," Rowden said.
The state-level ban has helped the pocketbooks of the lobbyists who patrol the Capitol during the annual legislative session.
Prior to the ban, longtime Jefferson City lobbyist Bill Gamble often supplied thousands of dollars worth of pizza and soda to members of the House and Senate who want to give visiting schoolchildren lunch when they tour the building. He also used to purchase beverages for lawmakers who are holding community events in their districts.
Similar proposals targeting local officials have been introduced in the past, but they have not advanced in the Legislature, allowing the freebies to continue flowing to local officials.
In April 2022, for example, St. Louis County Executive Sam Page received two tickets worth a total of $428 from SSM Healthcare for "Glennon Live," a fundraiser benefiting Cardinal Glennon Children's Hospital.
In August 2022, a number of local elected officials received $170 Cardinals tickets from Ameren Missouri, including St. Louis County Council Chair Shalonda Webb, Florissant Mayor Tim Lowery and Brentwood Mayor David Dimmitt.
Kansas City Mayor Quinton Lucas received Kansas City Chiefs playoff tickets worth more than $500 from Evergy.
Much of the spending is by utility companies, including Ameren, Spire and Missouri American Water.
Not all of the spending is on tickets to events.
In January, for example, former alderwoman-turned-lobbyist Sarah Wood Martin purchased a $22 lunch for St. Louis Aldermanic President Megan Green.
Information about the spending is part of a monthly report that lobbyists must submit to the Missouri Ethics Commission.
Rowden's proposal also would also eliminate the monthly report requirement and instead require an annual report on spending.
"If we ban lobbyist gifts for local officials as well, then there really is no need for any sort of monthly reporting because at that point there's no elected official that exists in Missouri that's able to take a lobbyist gift," Rowden said.
The legislation also includes a provision added by Sen. Tracy McCreery, D-Olivette, allowing officials to tap their campaign accounts to pay legal fees related to their jobs.
The legislation is Senate Bill 378.
Missouri's Legislature reflects the federal structure in many ways. Video by Beth O'Malley
Political Fix
Our political newsletter featuring local and national updates and analysis.