Sen. Josh Hawley, R-Mo., talks to the press at the Governor's Ham Breakfast on Thursday, Aug. 17, 2023, at the Missouri State Fair in Sedalia, Mo. Photo by Laurie Skrivan, lskrivan@post-dispatch.com


Laurie Skrivan, Post-Dispatch


SEDALIA, Mo. — Facing reelection next year, U.S. Sen. Josh Hawley expressed deference to voters Thursday when asked his thoughts on possibly appearing on the same ballot as an abortion referendum in 2024.
"I think voters ought to be able to weigh in and in every state and jurisdiction they want to," Hawley said outside the Governor's Ham Breakfast at the state fair.
For his part, Sen. Eric Schmitt said Thursday, "It's inevitable that the question will be presented to Missouri voters at some point."
Both Republican senators have said they personally support rape and incest exceptions to abortion bans — a position at odds with the state's current law, approved by nearly all state legislative Republicans and Gov. Mike Parson, in 2019.
The two senators' statements also highlight complicated public opinion on the issue — as abortion rights supporters attempt to place abortion on the ballot in 2024 — and differences within the current Republican Party.
People are also reading…
Hawley's comments drew near-immediate criticism from his possible Democratic rival in the 2024 election, Lucas Kunce, who claimed the Missouri senator was afraid of being on the wrong side of public opinion.
Kunce said Hawley supported Missouri's strict abortion ban and mentioned his wife Erin Hawley's work on a lawsuit "to ban abortion meds nationwide."
He said Hawley was distancing himself from Missouri's law after Ohio voters, by a 57%-43% margin, rejected an initiative that would've made it more difficult to enact abortion protections there this November.
"Josh Hawley has made abortion bans the Hawley family business," Kunce said in an email blast. "Now after the Ohio election, Josh is worried voters will punish him for it. He should be."
Hawley's Senate office pointed to comments he made in February to St. Louis Public Radio in which he described himself as "100% pro life. I think that there shouldn't be abortion except for cases of rape, incest and the life of the mother.
"I'm glad that people in Missouri get to set our own laws," Hawley said then.
Schmitt, as attorney general, signed an order instituting Missouri's current law after the U.S. Supreme Court overturned the constitutional right to an abortion established in Roe v. Wade.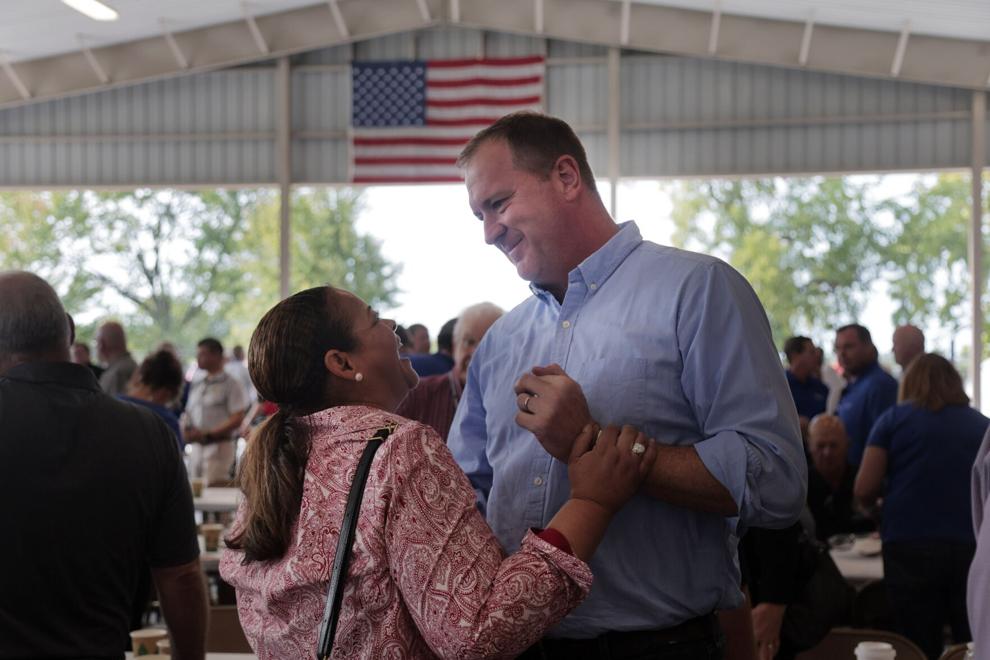 U.S. Sen. Eric Schmitt, R-Mo., and former state senator Shalonn "KiKi" Curls, who served as a Democrat from suburban Kansas City, catch up at the Governor's Ham Breakfast on Thursday, Aug. 17, 2023, at the Missouri State Fair in Sedalia, Mo. Photo by Laurie Skrivan, lskrivan@post-dispatch.com


Laurie Skrivan, Post-Dispatch


Moments after the Supreme Court ruling last year, Schmitt, then a Senate candidate, signed the legal opinion and said Missouri was the first state to effectively end abortion.
"My office has yet again reinforced Missouri's dedication to protecting the sanctity of life, both born and unborn," he said then.
On Thursday, he said, "As attorney general, my job was, by statute, when Roe v. Wade was overturned, to issue the legal opinion that" allowed the 2019 law to take effect.
"I support those exceptions — rape and incest. That's my personal view," he said.
Other GOP officials 
The state's Republican senators aren't the only ones who have ever-so-slightly distanced themselves from Missouri's current law, which took effect last summer.
Lt. Gov. Mike Kehoe has said he'd consider signing a law that allows for abortions in cases of rape and incest.
"I'm always looking for ways to continue to protect life," Kehoe said Thursday. "I think that's the most ultimate thing that an elected official could do is speak for the unborn. But I also know that there are some challenging times and families that have to make a decision in some incredibly tough circumstances."
Kehoe said if abortion "gets put on the ballot by an outside group," he probably wouldn't be able to support the initiative "just based on hearing some of that conversation going on."
Abortion rights supporters are attempting to place a question on the ballot in 2024 that would bar the state from infringing on the right "to make and carry out decisions about all matters relating to reproductive health care, including … abortion care."
Two Republican legislators have sued to challenge the fiscal estimate of the proposal, following a legal fight waged by Republican Attorney General Andrew Bailey that delayed signature collection to place the question on the ballot.
Now advocates are suing over a ballot summary written by Secretary of State Jay Ashcroft, a Republican running for governor, who said the constitutional amendment would allow for "dangerous" and "unregulated" abortions in Missouri. That has further delayed signature collection.
Kehoe also said he supported efforts to make it more difficult to amend the state constitution, though he didn't say what specific threshold for passage he believed should be required.
"I'd rather see something that's in writing," he said. 
"I'm a defender of the current law as we see it," Kehoe also said Thursday. "I do not like the initiative petition process that some people are putting together on the life question." 
If the Legislature approved "something that had some exceptions that weren't crazy, we'd certainly sure look at it," Kehoe said. "It's the same position that President Trump has and that Senator Hawley has."
'Cheap shots'
State Sen. Bill Eigel, who is also running for governor, on Thursday explicitly pushed for a so-called "concurrent majority" threshold for passage that would require voter approval for constitutional amendments in a majority of congressional districts, rather than raising the statewide threshold for passage, currently a simple majority.
"The grassroots of this state are far more positive, far more supportive, far more engaged on that issue," Eigel said of a concurrent majority, which could doom an abortion referendum.
He went on to blast Senate President Pro Tem Caleb Rowden for casting doubt on efforts Republicans describe as initiative petition reform, saying he found it difficult to imagine a successful campaign in Missouri to lift the bar.
Eigel laughed when asked whether he'd be able to get anything done in the Senate next year, or if he thought senators such as Rowden, who is supporting Kehoe, would torpedo Eigel's proposals ahead of the primary.
"Well, I tell you what, we're gonna get a lot done if the senior leadership in the state — that starts with Gov. Mike Parson — call on Republicans to do Republican things," Eigel said.
Rowden did not respond Friday to Eigel's criticism. 
Parson after the ham breakfast denounced "cheap shots" coming from some candidates in the Republican field.
The governor, who has praised Kehoe and has said he wants someone as governor to build on his administration's success, said "it's frustrating when a lot of people work our tail ends off for five years trying to get through some of the difficult times in the state."
Be the first to know
Get local news delivered to your inbox!