Hugo Coñoman sprays the basement ceiling of Lidia Ivanova's University City home with a mold-preventing primer paint after it was bleached on Tuesday, June 20, 2023, almost 11 months after last July's flash flood. Ivanova hoped for a buyout after the River Des Peres left her basement full of water and 18 inches on the main floor. "The city called and said they wouldn't buy it for the next five years, maybe 20," she said. "So I started working on it."


Robert Cohen, Post-Dispatch


HAZELWOOD — After 40 years in their home on Elm Grove Court here, Rick and Jean Guinn want out.
Rains have backed up their sewer at least four times. Hurricane Ike flooded their basement in 2008. After last summer's flash flooding filled it again, with twice as much water, they volunteered for a government buyout, which would demolish their home and pay them to move.
"This last one just did us in," Jean Guinn said. "We're done."
But, a year later, they're stuck in limbo: They don't feel like they can sell their house. They don't have somewhere else to live. They don't know when the buyout will come. And every rain brings fears of Coldwater Creek rising behind them.
"It's a constant source of worry," she said. "When will it be done? When can we leave? Will they offer enough?"
People are also reading…
Rose Guinn, 3, throws water on her grandfather Rick Guinn while playing in the backyard of the Guinns' home on Elm Grove Court in Hazelwood on Thursday, June 22, 2023. When floodwater from Coldwater Creek filled the Guinn's basement last July, including Rose's bedroom, the water came to the top step of their deck. While her home of 40 years is on the voluntary buyout list, Jean Guinn is worried they might not be able to take it. "They're not going to give us enough money to go anywhere else," she said.


Robert Cohen, Post-Dispatch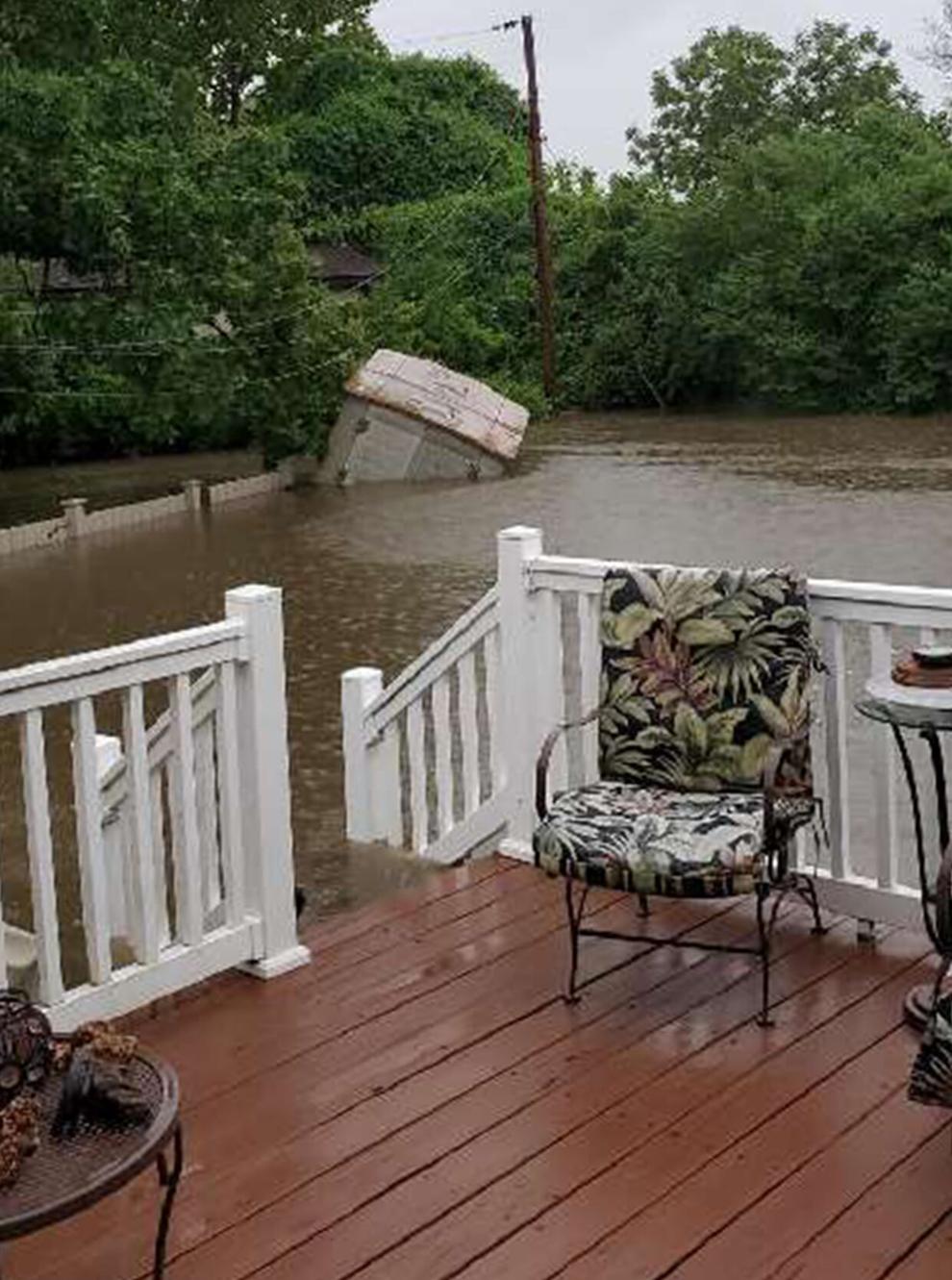 Coldwater Creek floodwater reaches the top step of the deck at Rick and Jean Guinn's Hazelwood home on July 26, 2022.


Photo courtesy of Rick Guinn


Last summer, after record-shattering rainfall flooded hundreds of homes across the St. Louis area, local officials turned to a key long-term strategy to help homeowners, and stop a cycle of repetitive flooding: They wanted to buy out hundreds of flood-prone homes and demolish them, turning them back into green space, forever. Now that list stands at just 52.
And even those who made the cut are left waiting as applications move through local, state and federal government bureaucracy, before checks are written and shovels hit the ground. 
Nine local governments — St. Louis, St. Louis County, Hazelwood, Florissant, Maryland Heights, Ladue, Webster Groves, University City, De Soto — applied for federal funding to buy properties in pockets of the region hard hit by last July's floods, according to state records released to the Post-Dispatch.
But red tape slows everything down.
Local governments apply for buyout funding on behalf of residents, after assessing damages, prioritizing the most at-risk properties and asking owners if they want a buyout, which are typically priced at the value of the home before the flood.
The Missouri State Emergency Management Agency pares down the wish lists based on several criteria, including the history of flooding in each area, the damage to each home, and how effective each buyout would be in saving taxpayer dollars.
State and local officials then get necessary documentation from qualifying property owners and submit formal applications to the Federal Emergency Management Agency, which again reviews the applications for eligibility.
And the funding is limited: FEMA caps all "hazard mitigation" grants after any one disaster at 20% of the FEMA payout for that specific flood. And FEMA typically only pays for 75% of the projects; state and local governments have to find the rest. 
In Webster Groves, officials decided to prioritize four homes that had suffered repeat, substantial flood damages. The full list of 12 would have cost the city more than $900,000, it said. "Unfortunately, this is not financially feasible," the city said in a letter to residents, "and difficult decisions had to be made." 
In Hazelwood, officials are requiring buyout applicants to put in 10% of the sales price. Each property owner "bears some responsibility for acquiring the property, so a contribution towards the mitigation is a reasonable way to help protect tax dollars," City Manager Matt Zimmerman said in an email.
In University City, officials had initially talked of buying out most of more than 300 homes condemned in the wake of last July's flash flooding, a cost estimated at $40 million. But the state said there was no way the city would get that kind of funding, so officials pared down their list to two dozen.
Flash flooding from Coldwater Creek goes into the Hazelwood home of Jean and Rick Guinn on July 26, 2022; while backed-up sewage and River Des Peres water enters Mary Ann Gaston's basement in University City.

Video courtesy of the homeowners

Buyouts are often frustrating for officials and homeowners alike, said Jon Remo, professor at Southern Illinois University-Carbondale who researches river management and flood mitigation.
"I wish I could say it's a clear and transparent process, but it's not," Remo said. "Not that anybody is necessarily doing anything wrong, but when you have all these levels of local government, it's just hard to follow." 
'I just want to know when'
Last fall, the nine local governments — not including St. Clair County, which has asked Illinois to consider buyouts there, too — were eyeing more than 150 addresses, including homes and apartments, for buyouts, at a cost of about $26 million.
But after a monthslong review, the Missouri State Emergency Management Agency said it planned to send applications for 52, worth a total of about $13.5 million, on to federal authorities by Aug. 8. Another 16 properties were waitlisted, should more funding be available than anticipated. 
FEMA did not provide a timeline for when it expects to authorize buyout funding and did not respond to a request for comment. But federal and state officials warn cities and homeowners that the process is complex and takes time. 
The buyouts now being considered, which range from Coldwater Creek in north St. Louis County to Joachim Creek in Jefferson County and from Deer Creek in Ladue to the River Des Peres in Lemay, would still be one of the largest in the region in three decades.
In University City, Kathleen Behrmann, 71, moved into her home on Wilson Avenue in 2015, looking for somewhere to "age in place." She knew it was in the flood plain, but was told at the time that the Metropolitan Sewer District had done work there to reduce flooding. The home was affordable. She liked the yard and the neighborhood. She bought flood insurance.
And she had just finished renovating the kitchen when last July's flood hit. University City condemned her home. 
(Left) In July 2021, a dog walker passes by a former driveway entrance, the only vestige of homes that were bought out on one side of the 1000 block of Wilson Avenue along the River Des Peres in University City, where Louise Bryant and Willie Johnson were swept away and died during a 2008 flood. (Right) Nearby, in August 2022, homeowner Anthony Saddler cleaned out his damaged items after flash flooding again overtook Wilson Avenue homes the month before.


Christian Gooden and Laurie Skrivan, Post-Dispatch


She spent more than five months living with her daughter, used FEMA emergency funding to make repairs, and moved back in January.
Still, she said she can't go through that again. She's counting on a buyout.
"I just want to know when," Behrmann said. "But no one can tell me that." 
In Ladue, Greg Orf's home on Foxboro Road has flooded at least three times since he moved there in 2003: Hurricane Ike in 2008, flash flooding in 2020, and again last July.
He moved back in January, after spending months cleaning the house out and making repairs.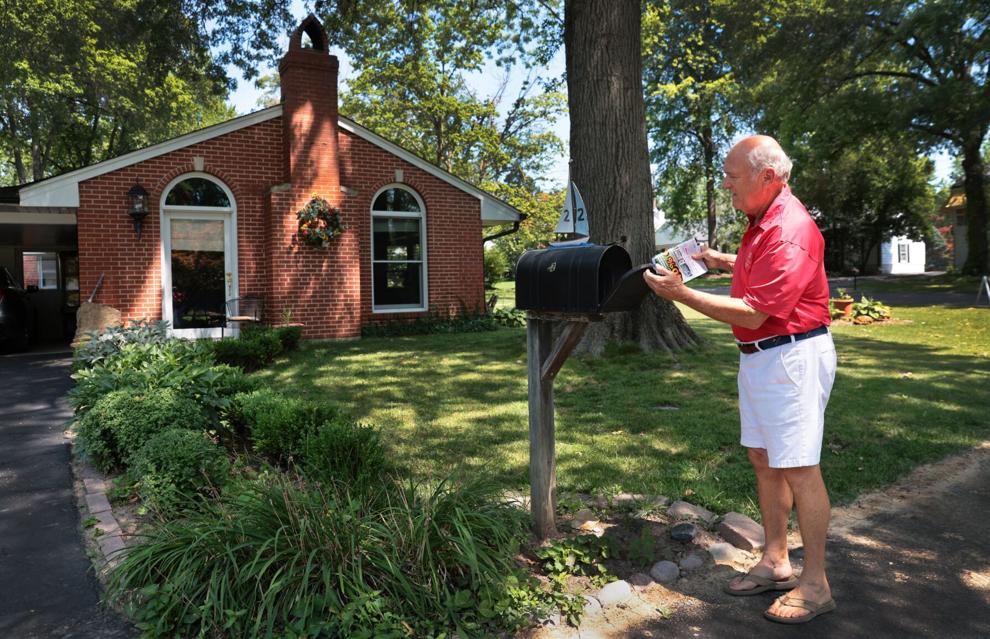 Greg Orf gets his mail outside his Ladue home on Foxboro Road on Thursday, July 6, 2023. Orf's home took more than three feet of water during last July's flood and is among those on the voluntary buyout list.


Robert Cohen, Post-Dispatch


"We lost anything you could think of," said Orf, 73. "It was a wipeout."
Thunderstorms now make Orf nervous. The next flood is a certainty, he said.
He's on the buyout list, so far. But he's not certain he'd take one.
"I can't afford living in Ladue if I leave," said Orf, who sells pest control products designed for industrial and commercial properties. "I'd have to consider where I'm going to go."
In Lemay, Pat Hunt said he's grateful federal and county officials are considering his family's home of 20 years, on Idaho Avenue across from the River Des Peres. 
The Hunts moved in in 2003 and were hit by flash flooding in early 2016 after storms dumped about 10 inches of rain on the region and pooled about a foot of water in their basement, Hunt said. Three years later, in 2019, they were flooded by about four feet of water. In July, nearly six feet of water and sewage filled the basement, he said.
"I never knew refrigerators and stoves could float, but they do," Hunt said. "It was pretty devastating."

(Left) Khaleb Hall, 10, enjoys a trip to Lemay Park with his brothers and mother on Wednesday, June 21, 2023. (Right) The park, which flooded with sewage and an overtopped River Des Peres in 2019, was closed for months for cleanup by the Metropolitan St. Louis Sewer District.


Robert Cohen, Post-Dispatch


'It just feels hopeless'
The Hunts don't want to leave. But the next flood "is just matter of time," Hunt said.
He said he has no choice but to wait for a buyout.
Back on Elm Grove Court in Hazelwood, the Guinns feel like they're stuck, too. Who, they ask, would buy a house that floods?
So, late last month, they took buyout paperwork up to the city late last month, said Jean Guinn, 65. They've attended meetings and stayed in contact with city officials about the process, which they were told could take two to three years. 
But they worry about how much the government will offer. 
The Guinns, both retired, had never planned or saved for a move.
Numerous stripped cars are scattered on the streets near the shuttered Reserve at Winding Creek Apartments in Hazelwood on Thursday, June 22, 2023. Many residents were evacuated from the complex by area fire departments on lifeboats during July, 2022 flash flooding from Coldwater Creek.


Robert Cohen, Post-Dispatch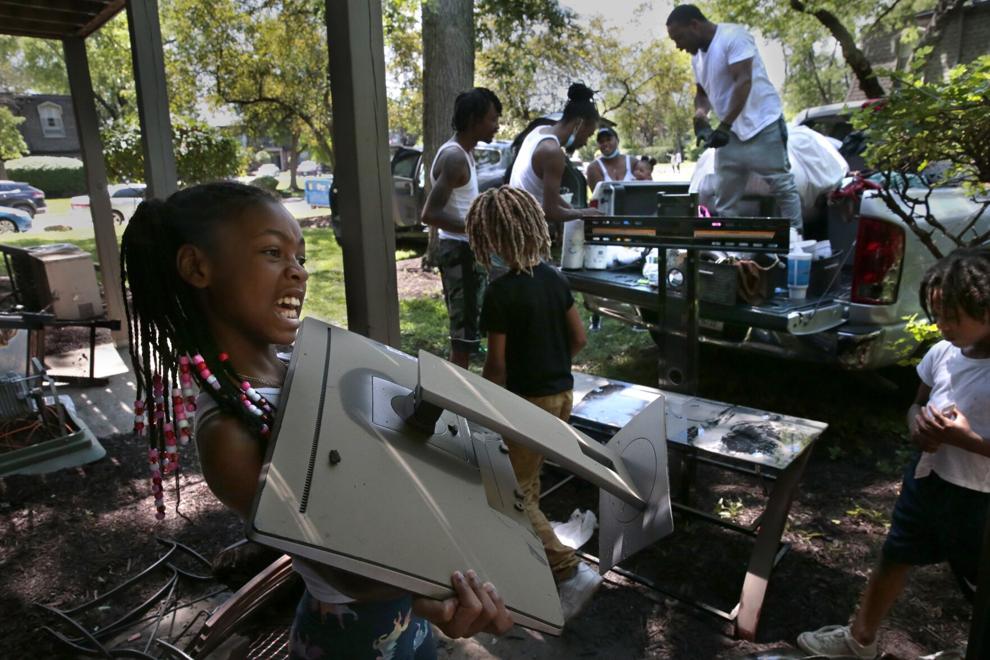 Kasey Hawkins, 10, joins family members helping her aunt Kenquita Hawkins move from her apartment in the Reserve at Winding Creek Apartments in Hazelwood on Friday, July 29, 2022. Residents, many who were rescued by boat from Coldwater Creek floodwater 3 days earlier, scrambled for moving trucks when told they had to vacate the complex by the end of the day.


Robert Cohen, Post-Dispatch


And they don't know if they can afford to chip in the 10% — about $13,000 for the Guinns — that Hazelwood is requiring. 
They said it's an unfair cost to people whose homes were flooded. 
And, like almost everyone in their shoes, they worry about the next flood.
"We don't know what to do," Rick Guinn, 64, said. "For us long-timers on this court, the ones who are left, it just feels hopeless. There is nowhere to go that we can afford with this money."
"We're just in limbo."
Bryce Gray of the Post-Dispatch contributed to this report.
Be the first to know
Get local news delivered to your inbox!