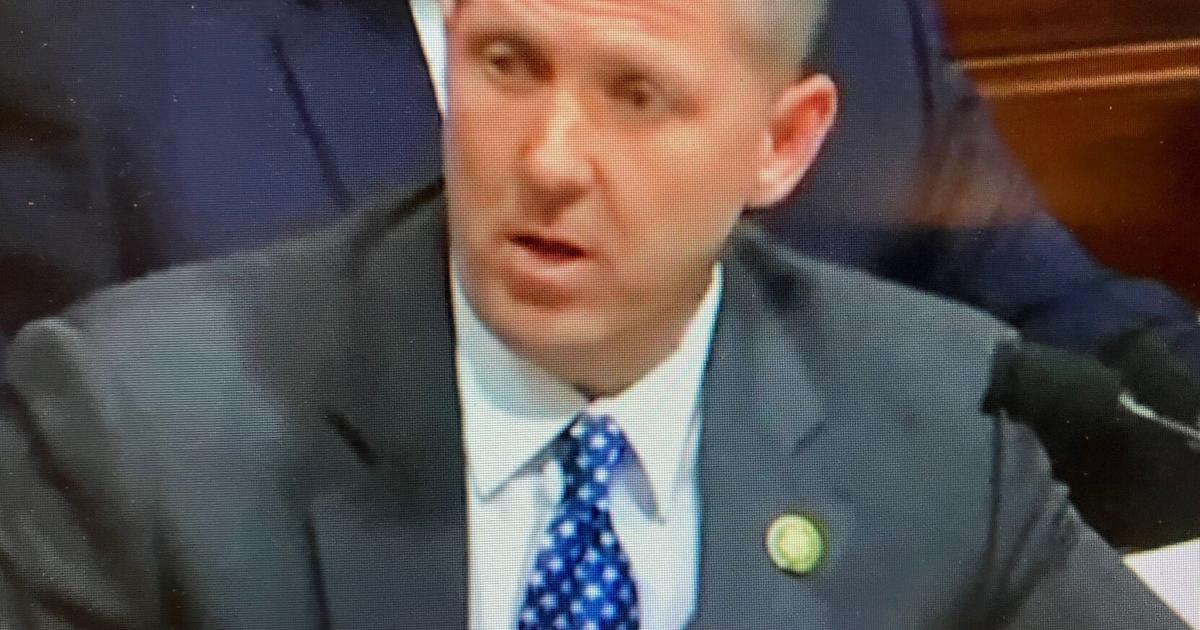 Washington, D.C. – Congressman Josh Brecheen, R-Oklahoma, questioned Department of Homeland Security (DHS) Secretary Alejandro Mayorkas during a contentious April 19 hearing.
Amidst intensifying examination of Mayorkas' job performance, Brecheen was focused on a range of issues — including apparent disagreements within the Biden Administration — during a House Homeland Security Committee hearing on the Administration's Fiscal Year 2024 Budget Proposal.
In the words of a press release from his staff, emailed to The City Sentinel, Brecheen exposed "Mayorkas for going against his own Border Patrol Chief in ending construction of the wall on our Southern border."
In a timely Facebook posting, Brecheen expressed his frustration with Mayorkas in these words:
"Secretary Mayorkas says he supports ending construction of Trump's border wall, going against his own Border Patrol Chief who told me last month that he disagreed with President Biden's decision to shut down the wall."
Representative Brecheen — who represents Oklahoma's Second Congressional District in the U.S. House — also rhetorically jabbed at Mayorkas got a budget request seeking "$91 million for DHS to spend on electric vehicle charging stations and $32 million for electric vehicles (EVs)" — while failing to invest in "proper border security."
Video of Brecheen's comments during the hearing can be viewed here:
Constituents and supporters of the first-time Member of Congress, elected last November, responded to this week's committee work with a wave of supportive comments about Brecheen's verbal pressure on Secretary Mayorkas.
Trish Mobbs said, in a public post on the social media platform Facebook, "Stand strong Josh Brecheen we the people stand behind you drain the swamp, do not give in or give up."
Josh Ogden asserted, "On average there is a death every 7 minutes due to Fentanyl, most of which comes across the Southern border."
Earlier in the week, U.S. Senator Ron Johnson, R-Wisconsin, was arguably even more direct in his criticisms of Sec. Mayorkas.
He looked directly at President Joe Biden's embattled loyalist, saying, ""You are failing miserably … Do you not care? Do you not have just an ounce of human compassion? … You just sit there looking with a blank look on your face."
Like other Republicans, Johnson has pointed not only to the weak enforcement of border strictures, but also at the human cost facing undocumented immigrants — death, homelessness, sexual victimization, drug incidents — who are paying a horrific price during attempts to cross into the United States from Mexico.
(Many of of those attempting to enter are from Central and South American nations; others from elsewhere in the world.)
This week, Johnson called on Mayorkas to resign.
Senator Josh Hawley, R-Missouri, is among those in a rising chorus pressing for impeachment proceedings against Alejandro Mayorkas. He characterized events over the past year or more as leading to "the biggest child smuggling operation in U.S. history."
Hawley, Johnson and other members of the House and Senate have decried the tide of drug cartel and other illegal operations engaged in multiple illegal border-area operations. These mob-like venues seek economic gain from a diverse range of human trafficking, including forcing young girls and boys into sexual depravity.