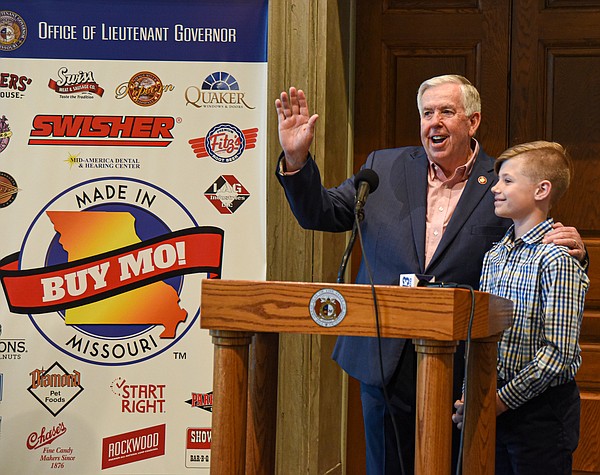 Vendors surrounded the third floor of the state Capitol Rotunda on Wednesday morning, showcasing items from candies to road barriers.
They are connected by being Missouri businesses.
The Buy Missouri initiative from Lt. Gov. Mike Kehoe's office held its annual Buy Missouri Day at the Capitol, and more than a dozen Missouri companies joined the showcase.
"Small businesses (are) pretty dear to me," Gov. Mike Parson told scores of participants. "You're the heart and soul of Missouri, keep up the good work."
In his remarks, Kehoe promised to promote local products.
"Thank you, thank you for the people you employ, the risk capital you put forward to have your business and the products you make," he said. "Keeping our money within our state makes so much more sense for our economy."
The event, which was open to the public, offered an opportunity for residents and legislators to learn more about local businesses, according to a news release from Kehoe's office.
Buy Missouri is a program established in 2017. It has more than 500 members across the state, according to the news release. To be elibile for the program, products need to have more than half of their content come from Missouri, according to its website.
One participating business is Linn-based squeegee manufacturer Haviland Corporation. It produces floor and window squeegees among other appliances for cleaning and the construction market, said Alice Andrews, executive vice president.
"I believe we're the only squeegee manufacturer currently in Missouri, there was another one, and he retired," she said.
This is the second year her company has joined the event. She hoped it would raise awareness in the state's industrial capacity.
"I really hope to gain awareness that industrial products are still made in the state, that you don't have to go look too far to find exactly what you need," Andrews said.
Another participant was Kansas City-based Spiceman Enterprise LLC. The company produces custom blended of spices, sourced from ingredients from around the country, owner W.G. Lester said. Apart from being a part of Buy Missouri, Lester also works with the Missouri Grown and Missouri Exports programs. Supporting local businesses is very important for him, Lester said.
"You can keep your marketing dollars in the state of Missouri, it helps the economy, it helps jobs creations," he said. "That money stays here … it keeps circulating, it's like a wheel and it keeps growing and growing."

Julie Smith/News Tribune
Enrique Fuhlage, left, co-owner of Show Me Bar-B-Q Sauce, serves up a sample of pulled pork with the sauce during Wednesday's Buy Missouri Member Showcase in the third floor Capitol Rotunda. Show Me sauce was one of nearly three dozen members who were in the statehouse for the annual display and to have the chance to show off their products or services. Rep. Kemp Strickler, at right, was one of the first to try the Missouri-made sauce over the pulled pork.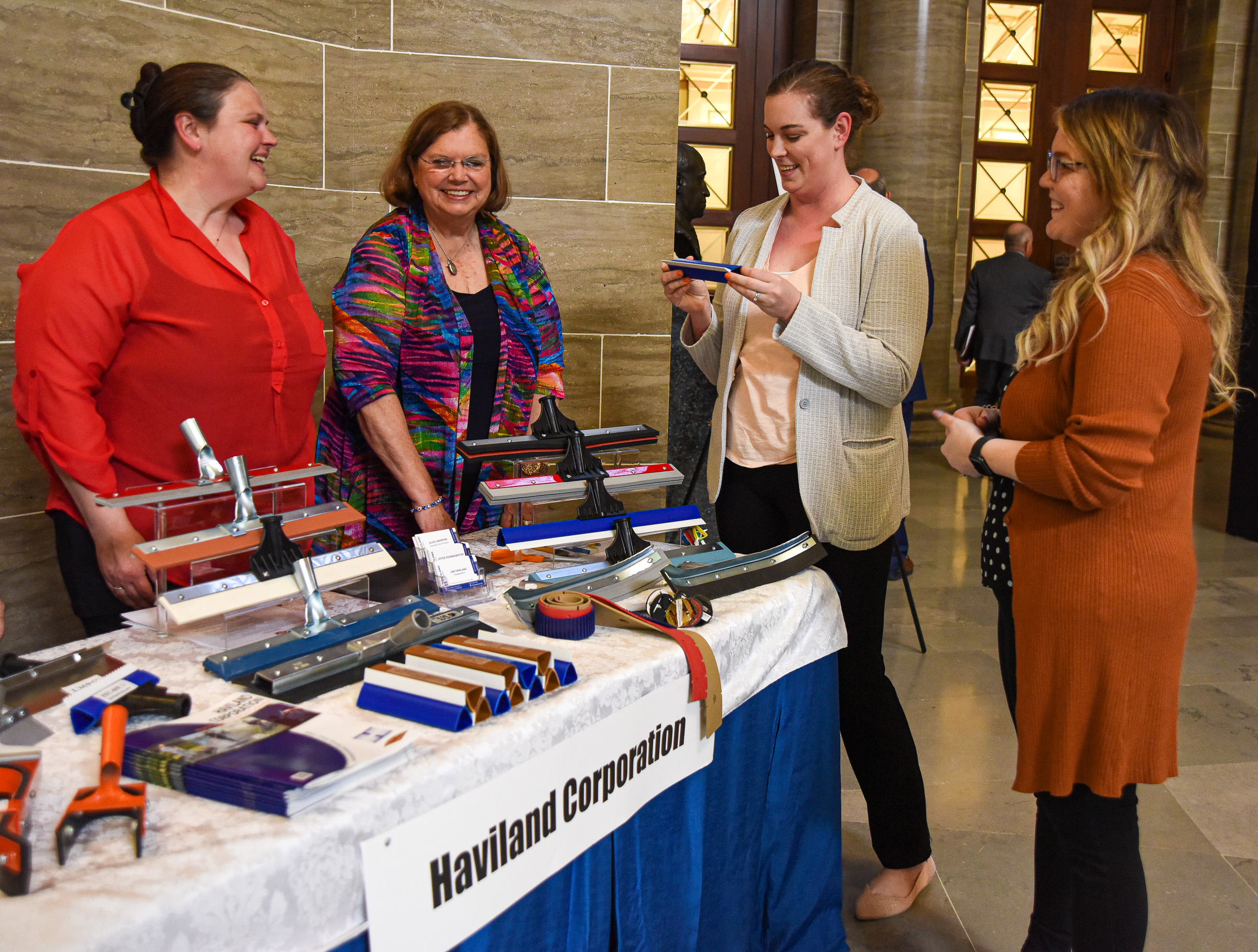 Julie Smith/News Tribune
Haviland Corporation in Linn is another of the Buy Missouri members and was on hand Wednesday at the Capitol for the annual Buy Missouri Member Showcase on the third floor rotunda. Haviland is a manufacturer of a number of items, ranging from window squeegees and brushes to heavy duty squeegees for paving purposes and much more. Being shown some of the items by Haviland staff consisting of Alice Andrews, vice president, and owner Jan Haviland are Katherine Best and Cameron Brown-Britt, both of whom work for the Missouri House of Representatives and were checking out the vendors.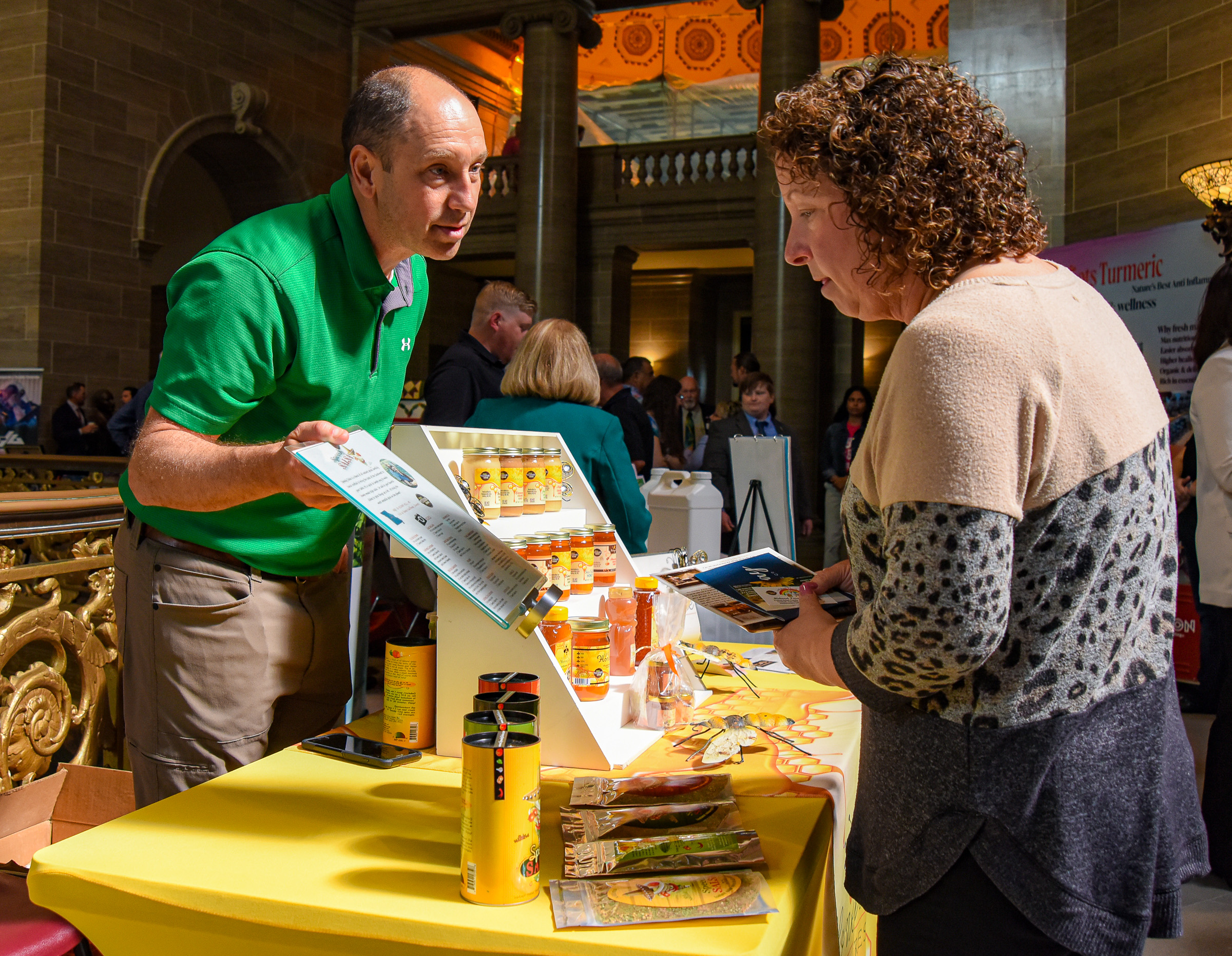 Julie Smith/News Tribune
Nick Kauffman points out more of the products offered for sale through Honeysuckle Acres, which is located in Hickory Hill, where Kauffman serves as beekeeper, infusionist and bottler of honey products and more. Visiting his booth is April Heckman, who was interested in these products and others of members of Buy Missouri who were at the Capitol for the annual showcase event.




Julie Smith/News Tribune
Gary Hinegardner, owner and distiller at Wood Hat Spirits in New Florence, was one of about four dozen members of Buy Missouri on hand Wednesday in the Capitol for the annual Buy Missouri Member Showcase, which serves as an opportunity for members to show their offerings.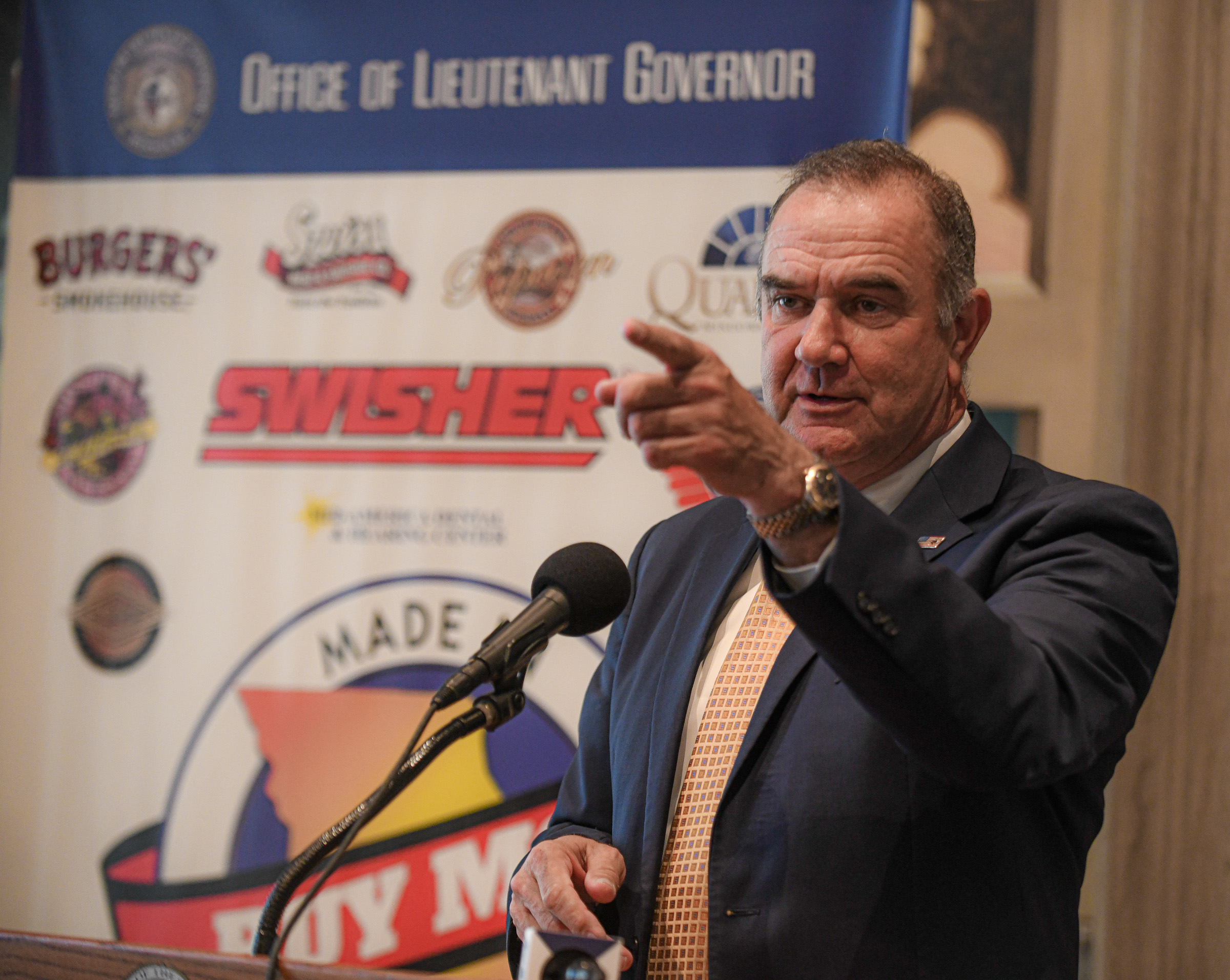 Julie Smith/News Tribune
Lt. Gov. Mike Kehoe welcomes members of Buy Missouri to the Capitol Wednesday as he and Gov. Mike Parson addressed business owners for the day's activities to celebrate and highlight Missouri manufacturers and service providers. About four dozen businesses were in the third floor rotunda where they could show samples of their work, service or product.